Fall TV is here! Happy Premiere Week! Here's my take on all that is new and my Prime time scheduler.
New Comedies
:
Selfie
: This pilot is available on Hulu, and I watched it. I wanted to love it,but I didn't. The vomiting in the first 5 minutes of the show set it off on the wrong foot. The problem is, I still want to like it and I'm still going to watch it.
John Cho
is so charming. I like that it is (loosely) based on
My Fair Lady
. And while I get why it is named 'Selfie' - and this doesn't really go down in the
Cougar Town
hall of fame for bad titles, the title conveys no heart - and is much more Eliza than Henry. And all I want is Henry. Despite the title, I'm going to
DVR
it.
A to Z
: This pilot is available on Hulu, and I watched it. I wanted to love it, but I didn't - almost, but not quite. It does seem to be
HIMYM
2.0, with all the whimsy, romance, destiny talk and the cast:
Cristin Miloti
and a pretty good Ted Mosby impersonator in
Ben Feldman
. Stu (the Barney character) is icky, gross and yucky - without NPHs charm, and is just distracting from the likable leads. I can't wait to meet the Marshall and Lily.
DVR
, watch live if I can.
Marry Me
: From
Happy Endings
Creator - it seems if you liked
Happy Endings
, you'll like this, they are very akin. Acomedy about the challenges of pairing up - not so original, but I like the stars, Ken Marino and Casey Wilson.
DVR
it.
Manhatten Love Story
: The gimmick is ...we get to hear the thoughts of two people dating! We get to hear (via voiceover) the subtext of every weird encounter, every awkward silence, every everything. I'm not sure I want to hear all that, and the commercials don't even seem that funny - plus- I'm not in love with the leads -
Analeigh Tipton
and
Jake McDorman
. It seems a snoozefest for me.
Skip it.
Black-ish
: Now this one IS going in the
Cougar Town
bad title hall-of-fame. I hate the title. Is it offensive, a little? Would we be okay with a show called 'White-ish' with an all white cast? (Thanks to E for that pondering moment) - Um. no. As far as the show goes though, it looks funny. I think
Anthony Anderson
is really funny. I'm not the target demographic for this show, but I'd watch it if it was on.
Flipping Channels night only
.
Bad Judge
: I like
Kate Walsh.
I like her in
Shonda Rhimes
dramas. When I first saw the ads for this one, I thought it WAS a drama, but its not. Half hour comedy. Which makes me go, hmmm. She's an irresponsible, but unconventionally effective judge. Hmm. This show has been horribly reviewed, but they apparently changed up the pilot a lot and it is maybe better? One of the changes was a recast of a character to
Ryan Hansen
from
Veronica Mars
- they may be on the right track. I'm mostly curious.
DVR
ing the pilot.
The McCarthys
: This show has an interesting cast.
Laurie Metcalf
,
Joey McIntyre
and
Tyler Ritter
. A New Jersey family obsessed with sports, with a newly 'out' gay son. None of that seems to say 'this is a show for me!' And - its been reviewed as sub-par material for sensational Laurie Metcalf. I'm still intrigued. I'll try one, if its on.
Flipping channels night only.
Cristela
: A comedienne gets her very own show! (Has that ever happened successfully?) A semi-autobiographical tale about a legal intern balancing work and family in Texas. I have no idea if
Cristela Alonzo
is funny. She might be, but this show is on Friday, and I just haven't seen anything to interest me here.
Skip it.
Mulaney
: A comedian gets his very own show! (Has this ever...wait, a few of these have really worked). It even opens with a stand up segment (ala
Seinfeld
). In real life he was an SNL writer, in this fictional world, he is newly hired to write for a game show. I have no idea if
John Mulaney
is funny, but I'm more interested in this premise. I would watch it if it was on.
Flipping channels night only.
New Dramas:
Madam Secretary
: I watched the pilot last night.
Tea Leoni
is great! The show is still figuring itself out. It was too much for me to have the side 'Company' is out to kill people sub-plot. The rest of the show was good. Please find more to do with
Bebe Neuwirth
. Please. She is amazing. I love me some
Tim Daly
. I will watch it while it figures itself out. Its a work in progress, and I have hope.
DVR
ing
Gotham
: Super hero origin story! I had little interest in Marvels Agents of SHIELD, but I have a small interest in this. Love
Ben McKenzie
(I heart
The O.C.
) and do have some curiosity about the introduction of well known villains, before they were the bad guys. The look of it is intriguing as well. I never stay long at the overly complex, involved stories - but, if I can tell whats going on, I might stay at this party.
DVR
the pilot.
Scorpion
: Four super high IQ techies, a super high IQ kid and his mom who translates life to them all while cracking some tough government cases. Its
The Big Bang Theory
meets
CSI
(wait - its the REAL CSI-Cyber). Reviews say the pilot is dumb, but the show may be worth watching. I love when American Idol alums succeed.
DVR
ing
Jane the Virgin
: The second entry in the
Cougar Town
hall of fame for bad titles. I hate this title, because it makes me not want to watch the show. And after forcing myself to watch the trailer and read up on it - it could be a good show...but wait the premise is horrible too. A faithful Latina is mistakenly inseminated during an OBGYN checkup. Its a remake of a Venezuelan hit ( a la
Ugly Betty
). Word on the street is they seem to be respectful of faith and chaste choices - this is good. It is well reviewed overall. It looks well-made and solid. The premise seems eye-roll worthy, but it could be good. I MAY
DVR
the pilot.
State of Affairs
: Her off-screen antics and Diva reputation aside, I like
Katherine Heigl
and I welcome her return to TV. I'm not sure this is the greatest vehicle for it. She is a CIA Analyst whose main role is to brief the President (played by the amazing
Alfre Woodard
). I like a female President, one review I read said the pilot had a
Shonda Rhimes
-worthy twist, which makes me curious. The reviews of this show are all over the place, many hate it, some really like it. I'm going to try it out.
DVR
ing
The Flash
: I don't watch Arrow, from which this is a spin off, but its supposed to be good. Good enough for me to watch? Probably not, as my super hero quota is met with Gotham. I enjoyed
Grant Gustin
(Barry Allen aka The Flash) on
Glee
. The buzz is good. If this is your type of thing, this is probably very watchable. I'm going to
Skip It.
Forever
: Every time Dr Henry Morgan dies, he's reborn naked in a nearby body of water. He's therefore been around Forever and will be around Forever. Get it? He uses his extensive medical knowledge from being around so long to solve crimes.
Ioan Gruffudd
is the lead. I loved him in
Amazing Grace
. Because of him alone, I want to try this out, but I'm not sure the dying won't grow old quickly.
DVR
the pilot.
Red Band Society
: I saw this pilot when it aired last week.
The Fault In Our Stars
meets
the Breakfast Club
as seriously ill, but talented and witty kids live together in a hospital ward.
Octavia Spencer
,
Dave Annable
and
Griffin Gluck
are the grown ups running the place and influencing them. I had middling expectations, but ended up loving the pilot, where I laughed outloud and got a little weepy. I read a review that called this - where the
Glee
kids go when they get sick. It does have
Glee
feel to it. And I like
Glee
. I loved this pilot. DVRing.
Watch Live
, if I can.
The Mysteries of Laura
:
Debra Messing
is better than this. She has to be. So is
Josh Lucas
. This show is YUCK. I watched the pilot last week. She's a cop, who is also a MOM (of twin terror boys). Whoa. That's tricky. I like
Debra Messing
, and the show is trying to utilize her comedy chops and be a true dramedy, but it doesn't work. Its very blah. Based on its huge numbers, it might be around for awhile. I'm hoping it was just because there was nothing else on and when real competition hits this week - it will go where bad dramas go to die. Sorry - I would like to see her on TV in anything better.
Skip it.
(Though I watched the pilot!)
Stalker
: CBS is really trying to keep the
Criminal Minds
crowd around for another hour. The show is about LAPD's Threat Assessment Unit - who handles all the - yup you guessed it 'Stalking" cases. I love me some
Dylan McDermott
. And
Maggie Q
. But, do we really need another reason to high light violence against women (well, mostly women - I understand). Its
The Following's
Kevin Williamson
(Not the
Dawsons Creek
one, as he seems to have 2 distinct sides to him) as creator.
Skip it
.
How to Get Away With Murder
:
Shonda Rhimes
has a whole night now - and I'm going to watch all three hours. A legal thriller, starring the always amazing
Viola Davis
as a high-powered attorney and law professor. Yup. She's got the Medical Drama, The White House one - of course a legal one was next. I'm sure it will be all 'dark and twisty' and I'm sure I will love it. DVRing and
watch Live
if I can.
Gracepoint
: A remake of
Broadchurch
, a British crime drama about the death of a young boy in a small town and the detectives trying to figure it out. Its one mystery for the whole 10 episode season. They say the ending is different, though. Maybe a different killer? It is intriguing and stars Anna Gunn and
David Tennant
(in the same role from Broadchurch). If you like British shows, this may be for you. I have a small interest it. I plan to DVR the whole series and see if I ever get to binge watching it.
DVR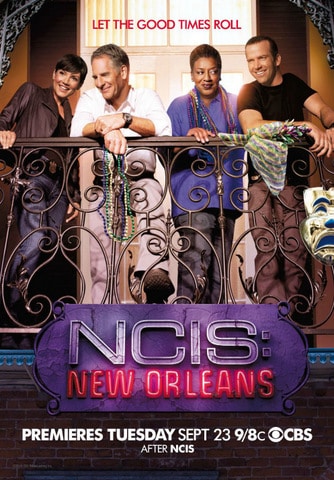 Constantine
:
Matt Ryan
stars as this comic-book TV anti-hero? Apparently, he has no super powers or secret identity and is not really a good person, and has been sentenced to hell? I'm not sure I get it. But, the star is very easy on the eyes. If you know who comic book Constantine is, I'm sure this show is for you. For those who know whats going on, its been well reviewed. I don't know whats going on.
Skip it.
NCIS: New Orleans
: I've never watched any of the NCISes. But, I could maybe watch
Scott Bakula
as a Navy vet. I love that he's been doing the press circuit saying he's never done a procedural. Mostly because,
Quantum Leap
was SO one of the founding fathers of procedurals. Same formula, different local and intriguing cast.
DVR
the pilot.
Seems my DVR is going to be filled up quick. Only time will tell what I actually make time to watch. 20 years ago today
Friends
premiered. 15 years ago today
The West Wing
premiered. 10 years ago today
Veronica Mars
and
Lost
premiered. It seems to be a charmed day for premieres. I feel old. Happy Premiere Week!