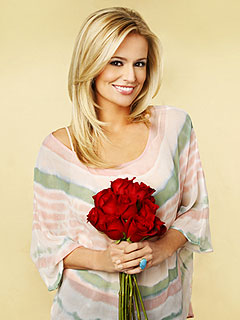 I have discovered that I have a little cycle that I go through with The Bachelor and The Bachelorette. It goes something like this: I watch and enjoy a season of one of the shows (examples: Andrew Firestone, Andy Baldwin). I then decide to watch one of the next seasons, and sometimes enjoy that. Eventually something happens that is either ridiculously dramatic (the Jason/Molly/Melissa debacle) or that I think is stupid (Jillian choosing Ed over Reid). At that point I will usually say I'm not watching this show anymore. If I haven't gone that far, they put someone in as The Bachelor who helps me choose not to watch (Jake Pavelka or the most recent Bachelor, Ben). But then the summer happens, and there is no new tv on. If The Bachelor or Bachelorette seem at all likable, I end up watching. And the cycle begins again.
I'm currently at the summer watching point of the cycle. Truth be told, I'm kind of enjoying it. Emily is likable enough and there are at least a few guys that seem datable so it has kept me watching. I do think that it is a little odd how much they show her daughter on the show, and as always there are some very strange guys. But once again, I continue to watch.
I'm currently rooting for Jef. He's likable. And as a Utahan I'd like to add that it's nice to have someone from Utah on who is not the season's villain. I'll enjoy it until it annoys me and I take another hiatus.